eCopy Helps Move Your Paper to The Cloud

eCopy From Nuance Helps Connect
A great way to advance your scanning is to use eCopy from Nuance.  A great tool for the small or local office up to enterprise size accounts.  The smooth interface and advanced features help any size user take their scanning to the next step.
Breakthrough office-scanning performance
Securely automate collaborative document
capture processes from the MFP and to the PC desktop.
Convert and share paper documents
in editable electronic files.
Quickly and easily combine documents and content for further enhancement before publication.
Accounts Payable – Scan, index, validate, and collect invoices and receipts by the employee, customer and vendor in secure shared folders.
Purchasing – Scan, split and index documents with barcodes, including quotes and proposals in workgroup project folders
Customer Service – Scan customer agreements and reports in a customer record system and email documents to customers
Legal – Scan, index, and store text-searchable or text-editable contracts directly into a case management system
Healthcare – Share documents between HL7 compliant healthcare record systems
Human Resources – Scan, index, and link resumes, forms, employee records, and performance reviews in a document management system
Many Copiers and Scanners require an online subscription service to connect your office to the cloud. If you are using more than one device the monthly fee can add up quickly. Also, with many vendors getting users connected to the subscription service the prices will most likely rise with each year.  This cost may become too high after a short time.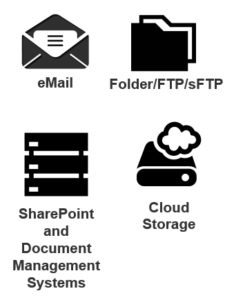 The benefits and ease of use of eCopy Cloud connector are many.  Ease of setup, no ongoing fee, backwards compatible as well as a "designable interface" tool makes this a great choice over slower option pushed by copier manufactures.
Sharescan is an embedded file that runs on SQL express with a jar file on the Canon copier. The ease of use from barcode scanning to cloud scanning is great.
For more information please call or email (317-759-2040)  [email protected]
---